Van Django & Sarah Marshall
8pm, Friday

May

12th

'06
St. James Hall
3214 West 10th Avenue
at Trutch St. in Kitsilano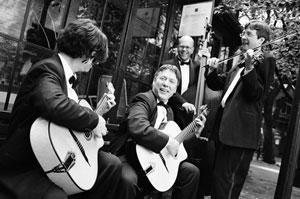 Come and celebrate the Rogue's 19th Birthday weekend with some exciting new talent from the local scene!
Van Django is a highly entertaining quartet inspired by the music of Django Reinhardt & Stephane Grapelli in The Hot Club of France. These Vancouver musicians are: Cameron Wilson (fiddle. Mad Pudding, Joe Trio, VSO), Budge Schachte (guitar. Tango Paradiso, Gypsalero), Finn Manniche (cello. Jazzmanian Devils, Mae Moore, Paperboys etc.), and Laurence Mollerup (acoustic bass. VSO, Herb Ellis, Silk Road etc.) Van Django weaves together world music, swing, jazz, classical and rock to give a whole new twist to the idea of a string quartet!
Sarah Marshall is a Vancouver songwriter with a uniquely poetic songwriting style. Born in Sri Lanka and brought up in various exotic parts of the world, she now lives here and her band includes Budge Schachte and Finn Manniche of Van Django, as well as Nick Apivor on vibes. "A deft and perceptive young songwriter with a fresh, pristine voice. A talent reminiscent of another Sara M from around these parts" —John McLaughlin, The Province
Website: www.sarahmarshall.ca
Both these acts are featured regularly on CBC programs like Westcoast Performance.