St. James Hall Elevator
The wheelchair lift at St. James hall will be out of commission effective May 19 for about 2 months, during which time there will not be any alternative to the stairs to access the concert hall. Call ahead to 604-739-9373 to find out the status of the elevator. Please accept our apologies for this temporary inconvenience.
Pacific Curls
8pm, Friday

July

3rd

'09
St. James Hall
3214 West 10th Avenue
at Trutch St. in Kitsilano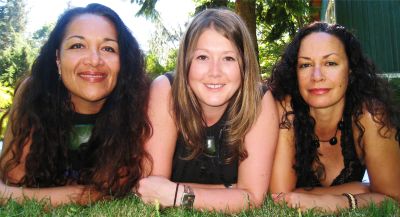 Pacific Curls never set out to be a trio. Four years ago when they found themselves in an Auckland studio, recording a Celtic/Maori/Pacific fusion album with two others, they had little idea that after two European tours, untold Australian, several New Zealand and a knock out Canadian Festival run, they would be the last three standing!
Hailed as a "... standout act..." by The Wellington Dominion Post, and recognised for their "impressive resume of performance experience and musical talent..." (Waikato Times), they are artists who best embody the notion of music and culture transcending boundaries till the seams are invisible.
They describe their musical collaboration for this unconventional threesome, "We feel a reverence for each others cultures and explore the places where we crossover", says Halliday, Barlow adds "people are looking for culture, for belonging, we hope we create that place that embraces us all."
The unprecedented combination of Fiddle, Ukulele, Maori traditional instruments, Cajons, Guitar, Stomp Peddles, Percussion and Vocals with lyrics in Maori, Rotuman and English unfolds a new direction for fusion World music. Beattie confirms "This is hardly a lone journey!"
Website: www.pacificcurls.com